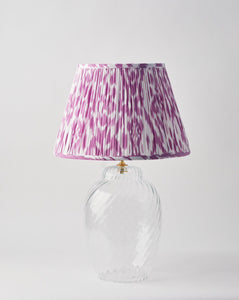 Swirl Lamp
The swirl lamp captures light like no other; whether from the bulb or the sun, the light passes beautifully through its rippled glass.
Blown and assembled in the USA, our Swirl Lamp is finished with brass hardware and a round cylinder solid brass finial with a 3 way switch. The lamp is French/Conservation wired and the clear cord exits from the socket. 
Base: 9" wide x 14" high. Height to top of socket: 18 1/2". Height with shade: 26".
Shade sold separately.  We recommend our 16" (bottom dimension) shade, which is pictured here in our Empire silhouette. 3-way switch.
Please allow 2-3 weeks for delivery.