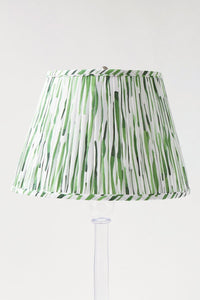 River Kelly
A favorite from the beginning, River is loved for its ability to enhance existing color schemes with a cool and fresh perspective.  
Measurements

All lampshades are referred to by their bottom diameter ( Top x Bottom x Height). So a lampshade that's labeled as 8 x 16 x 10 is referred to as a 16" shade. Learn More.

Shipping

There is a 12% shipping fee applied to all orders, with the exception of the harp kit & fabric samples.  Those ship free! You may see more information here.

Bulb Clip

Shades 10" and smaller require a bulb clip. Standard A19 bulb clips are on the 10" shades and the smaller chandelier/candle clips are on the 8" and 6" shades.